In the News
| | | | |
| --- | --- | --- | --- |
| Lucky Cat spayed for free on Spay Day | | | |
Wednesday, 11 November 2009 00:00
From the South Whidbey Record: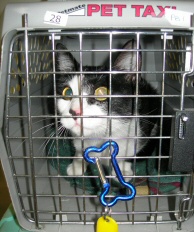 A black and white kitty named Mismatch made history last week.
It was the first to reach an exciting milestone for Oasis for Animals by being the 100th cat spayed or neutered as part of the non-profit organization's ongoing Spay Day program.
Oasis for Animals was created in 2001 and is a no-kill, all-volunteer rescue group based in Langley. Spay Day began in June as the result of a grant from the Washington Federation of Animal Care and Control Agencies.
For only $15, people have taken their cats to Ken's Korner, where Oasis has transported them to the Feral Cat Spay/Neuter Project in Lynnwood. The cats are then brought back to Whidbey in the afternoon.
So far, 114 pet cats have been spayed or neutered.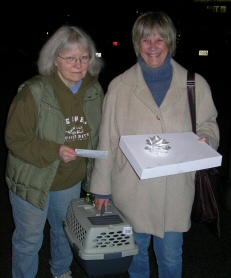 "We hope that Spay Day has helped call attention to the need for people to spay and neuter their pets, and we want to do as much as we can to help them," said Jean Favini, president of Oasis for Animals.
The most recent Spay Day was held Nov. 2. It filled up quickly - most were registered by mid-October for the event.
For the now-famous feline and her owner, Paulette Beck of Clinton, Oasis presented the pair with a travel crate for Mismatch, an Oasis T-shirt, and a refund of the spay fee. Beck also brought her male kitten to be neutered, to the Nov 2 event.
Last week's trip will be the last Oasis Spay Day until spring.
Oasis for Animals is turning its attention this winter to helping people safely trap free-roaming cats in South End neighborhoods so they can be spayed or neutered. Oasis volunteers said trapping does not harm the cats. "We do as much trap/neuter/return as we can," Favini said. "It depends on how many appointments we are able to obtain, because free-roaming (feral) cats are not trapped unless we have appointments available. It also depends on whether we have the funds and trained volunteers to do it.
"Our primary focus is on rescue and adoption of shelter cats about to be euthanized," she added. "As any rescue can attest, there are only so many hours in the day, so we need to do the best we can with the resources we have."
To contact Oasis for Animals, call 360-321-4142. For more information on the organization, visit www.oasisforanimals.org.
Page 1 of 6