Newman
From Newman's mom:
Dear Oasis,
I was amazed at how fast he and Bailey took to each other. Newman started rubbing his face against the carrier and purring the moment he saw Bailey, and as soon as I let him out he walked right up to Bailey and touched noses. By the next day, they were already starting to play together. I love watching Bailey wash him, it's just the cutest thing! He cuddles with me every night now, and I just adore him. Thank you again for rescuing him and bringing him to me!
Newman also sent something along to Oasis...
It's Newman here, my new Mommy is helping me write you a letter to say thank you for rescuing me and for taking such good care of me. Guess what? I have a Forever Home now!! My Mommy took pictures to show you.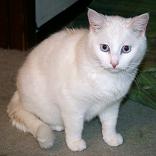 I was a little scared my first day in my new house...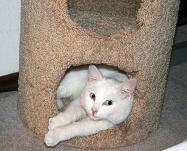 But then I found the kitty condo!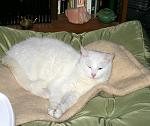 and my most favoritest thing, the big kitty bed that has a special pad that gets warm when kitties lie down on it (I'm on it a LOT!!)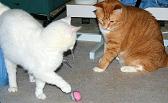 Then I met new brother, Bailey. He plays ball with me!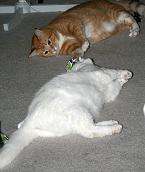 Sometimes we play so hard we fall over, and Mommy says we are SO CUTE!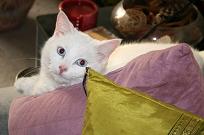 Thank you Oasis, I love my new family!