Lovey
In April of '09, I received a call from a woman who said they had been feeding a feral mom cat for the past several years - she thought at least 4 years. No one had ever touched this feral mom, and the family was actually scared to be near her, but they had fed her and indicated that she was a good mouser. This feral mom would have at least 2 litters of kittens every year and this family would take them all to a pet store here on Whidbey Island. Unfortunately, this pet store simply sells the kittens "as is" to anyone who walks in the door - no vaccinations, no spay/neuter. So, the reason this woman was calling is that the pet store wasn't willing to take any black kittens from her because they were too hard to sell.
I told her we would be glad to trap the feral mom and her kittens, plus get them all spayed/neutered. We would tame the kittens and adopt them into loving homes. She was willing to have the mom cat be re-released and continue to feed her. So, I trapped them all and brought them to the Feral Cat Spay Neuter Project, where they were all spayed/neutered. The mom cat was pregnant again with 6 more kittens! She was ear-tipped, received a rabies & FVRCP vaccination, plus a flea treatment. I brought them all back to Oasis, including the feral mom, who I had transferred into a cat carrier. I was planning on re-releasing her the following day.
I covered the mom cat's crate with a towel, and planned to keep checking on her. It never entered my mind that she was not feral, so imagine my surprise when I picked up the towel - peeked in - and she tipped her head and started purring at me! This purr rocked the crate, it was so loud! So, I made a nice cage ready for her, with a heated, very cozy bed. I opened the crate and she went immediately into that soft bed and started kneading in it and kept purring the whole time! She turned out to be one of the very sweetest cats Oasis has ever rescued and SO thankful to have that bed. We named her Lovey because she must have been saving up all that love to share with someone, if they would just open up their home and heart to her.
Lovey was adopted by a very special couple, who have adopted from Oasis before. It didn't matter that she was ear-tipped and her story made Lovey even more special to them. They give us regular updates about Lovey and how well she has fit in with their other cats and dogs too. Lovey sleeps with her humans every night, and loves to curl up in their laps every chance she gets.
I'm so thankful that we were able to rescue Lovey! No more of the outside life for her and no more litters of kittens!
Jean Favini
President, Oasis for Animals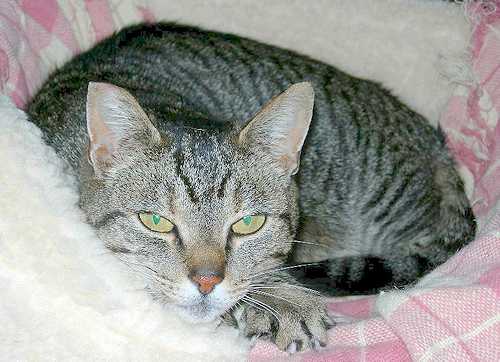 This picture is one I took of Lovey in the bed I provided for her, which she rarely left! I doubt she ever had a bed before and she kept telling us how much she appreciated it.